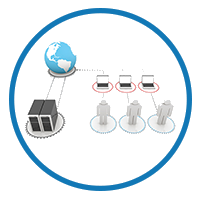 The most Reliable File Synchronisation Software - SureSync Endpoint
Your workforce is remote and mobile. This also means that critical company data is remote and mobile. How do you protect data on mobile laptops? How do you distribute files to telecommuters on the road or at their home office?
SureSync's Endpoint product allows you to replicate & synchronise files with your remote users, regardless of where they are!
No shared cloud storage – synchronisation is direct between your servers & your remote/mobile workers

No monthly fees – you own the Suresync Endpoint licenses!

No individual consoles – setup & manage from a central server
Endpoint is one of many software solutions you can deploy with the SureSync Suite, offering you multiple methods to manage, protect, and share company data.
What we love about this File Synchronisation Software



SureSync Endpoint file sync software allows your IT team to be in control of data storage. An administrator can configure a Job once on the server and assign it to multiple clients.
By default, all data transmissions with SureSync are encrypted with FIPS certified encryption, allowing you to securely transmit data between server and Endpoint client over the Internet.
Endpoint clients connect and replicate files between your server when and wherever they have internet access, ensuring your endpoint users have files protected on the server and are using the most current files on their laptops.
---
Acknowledgements and Copyrights
Open Seas (UK) Ltd has been providing local sales and support services to our SureSync customers in the UK and Europe since 2000. This site is owned and managed by Open Seas (UK) Ltd with SureSync content recreated with the express authorisation of Software Pursuits Inc. Open Seas is an official Software Pursuits Reseller partner for the UK and Ireland.