DISCOVER A POWERFUL FILE SYNCHRONISATION SOFTWARE - SURESYNC COLLABORATION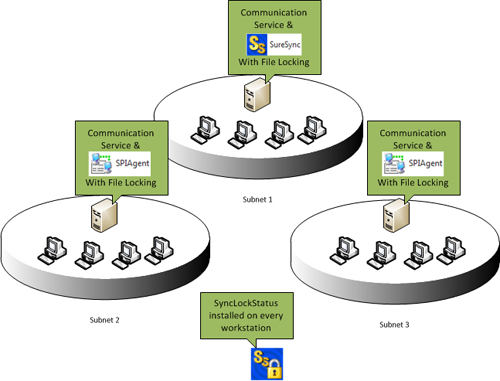 SureSync's are surely the most effective file synchronisation tools. This is why Open Seas offer the full range of SureSync software. We only have one goal: to provide you with the most effective and secure IT solutions.
SureSync Collaboration is very powerful as it allows you to keep files synchronised in real-time across wide area file systems. The Collaboration Bundle includes File Locking to minimise the potential of remote colleagues modifying their identical local file copies at the same time. You even have the option to deliver status messages to end users, notifying them when a file is being edited by another user or letting them know when a file is available to be edited. It has everything so that you optimise your processes and save time.
How does SureSync Collaboration Synchronise your Files


File Locking
Lock files at remote offices when a user opens a local file copy for editing, ensuring you minimise the opportunity for file conflicts.

Global File Sharing
Create a wide area file system and share files between any server you can connect to via IPv6 / IPv4 or resolvable DNS.

SyncLockStatus
Make file sharing transparent for end users, ask about our client-side notifications of when files are locked or available for editing.
---
Acknowledgements and Copyrights
Open Seas (UK) Ltd has been providing local sales and support services our SureSync customers in the UK and Europe since 2000. This site is owned and managed by Open Seas (UK) Ltd with SureSync content recreated with the express authorisation of Software Pursuits Inc. Open Seas is an official Software Pursuits Reseller partner for the UK and Ireland.