Trend Hosted Email security stops spam and targeted attacks
Helps you reclaim productivity and bandwidth

Rated #1 for stopping spam and phishing attacks, achieving the highest catch rates in independent competitive tests by Opus One
Blocks over 99%+ spam (PDF) with no more than 0.0003% false positives and zero email-based viruses

Protects organisations from spear phishing, ransomware, and advanced targeted attacks
Blocks ransomware before it ever gets to your users
By blocking ransomware at the email gateway, you are preventing it from ever reaching your users. In just a short, 30- day snapshot (April ~ May 2016), Trend Micro Hosted Email Security blocked more than 1.4 million emails with ransomware.
Hosted Email Security:
Detects and blocks ransomware with malware scanning, antispam and file (including executables and macro) scanning

Gives you advanced threat protection with sandbox malware analysis (optional), social engineering protection and zero-day and document exploit detection

Uses web reputation to protect against web links in malicious emails
Saves time
Helps free your time so you can focus on business matters

Requires no maintenance since Trend Micro experts continuously implement all updates, patches, and hot fixes 24x7

Allows end users to manage the spam quarantine not IT staff


Gives you peace of mind
100% service availability (PDF) with no more than one minute of mail delivery latency

World-class data centers in North America and Europe with multiple data privacy certifications including SAS 70 Type ll and ISO 9000

Trend Micro™ Smart Protection Network™ cloud-based global threat intelligence rapidly identifies new threats and continuously improves protection against known threats

24x7 technical support that gives you extra peace of mind
---
How Trend Hosted Email Protection Works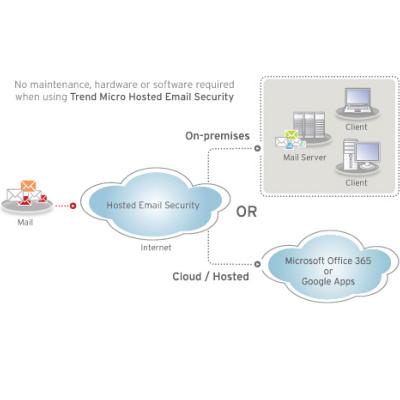 Email is mission-critical to your organisation. Email security should be mission-critical too.
Trend Micro Hosted Email Security is a no-maintenance-required solution that delivers continuously updated protection to stop spam and viruses before they reach your network. Here's how:
It adds value to your current environment

It provides always-up-to-the-minute security

Trend has the infrastructure you need for thsi level of continuous protection





Cloud-based security is only as good as the infrastructure behind it.
Trend stands by the availability of their robust, fully redundant, geographically distributed data centers. If one data center becomes unavailable, emails are automatically and transparently re-routed to a different data center, with no impact on delivery. That's why—unlike other vendors—Trend measures downtime in minutes, not hours.
Powered by the Trend Micro™ Smart Protection Network™
Trend Micro Hosted Email Security helps you fight spam and other threats by applying multilayered email scanning technologies powered by the Trend Micro Smart Protection Network. The Smart Protection Network scans, correlates and filters more than 16 billion website URLs, email sources, and files daily to stop emerging threats in real-time and to continuously improve protection against existing known threats.
Easy deployment, flexible policies, zero maintenance
Trend Micro Hosted Email Security deploys rapidly with a simple redirect of the MX record. It simplifies management with end-user quarantine management and flexible policy creation. And you're assured up-to-the-minute security with updates implemented 24x7 by Trend Micro security experts.
---
Acknowledgements and Copyrights
This site is owned and managed by Open Seas (UK) Ltd with Paragon content recreated with the express authorisation of Trend Micro United Kingdom & Ireland. Open Seas are an official trend Micro reseller partner in the UK.